Our Confidence Comes from Our Record of Success
Secure your future & protect your assets with our expert attorneys providing top-rated living trust & estate planning services backed by a proven record of success.
Whether you are attempting to defend an estate against a dispute, or you are looking to challenge a will or trust, our experienced and top rated trust and estate litigation attorneys will provide you with the representation you deserve.
If you have loved ones in your life, you need an estate plan. Whether you are looking for a living trust to avoid probate or the most complex estate plan to accommodate special circumstances in your family, our highly rated attorneys can tailor an individualized estate plan that will minimize the time your loved ones spend in probate and maximize the assets you leave to them.
Being the trustee of a trust or an executor of a will is an enormous responsibility. Having an experienced Estate Administration Attorney in your corner to explain your duties can simplify the process and protect you from personal liability, while ensuring that the decedent's intent is carried out.
Top Estate Planning, Probate & Trust Litigation Law Firm in Los Angeles and Orange County California
We are a boutique law firm focusing on Probate, Estate and Trust Litigation, Estate Planning and Probate and Trust Administration with multiple locations across Southern California.
With decades of combined experience, our Estate and Trust litigators are experienced trial attorneys who represent clients in the most complex disputes involving wills, trusts and estates.  This experience allows our attorneys to foresee issues before they arise when drafting your customized and tailor made estate plans, saving you and your family the expense, and frustration associated with costly litigation.

"MAX ALAVI MADE THE PROCESS OF CREATING A FAMILY TRUST VERY EASY. HE WAS ORGANIZED AND WAS ABLE TO ANSWER ANY QUESTIONS I HAD QUICKLY. HE TREATED ME WITH RESPECT AND ASKED THOUGHTFUL QUESTIONS ABOUT WHAT I WANTED. IF YOU NEED A FAMILY TRUST I RECOMMEND MAX ALAVI HIGHLY WITHOUT ANY RESERVATIONS."
"VERY PROFESSIONAL SERVICE. MAX WAS WONDERFUL! HE ANSWERED ALL OF OUR RIDICULOUS QUESTIONS AS MY HUSBAND AND I HADN'T EVER THOUGHT OF HAVING A TRUST AND HAD NO IDEA WHAT WE WERE DOING. IT WAS A VERY SIMPLE PROCESS, AND HIS OFFICE WORKED WITH US TO SCHEDULE APPOINTMENTS WITH OUR CRAZY SCHEDULE. WITH OUR GROWING FAMILY IT'S GREAT TO KNOW THAT OUR CHILDREN WILL BE PROTECTED IF SOMETHING HAPPENED TO ME AND MY HUSBAND, AND WE CAN THANK MAX FOR THAT FEELING OF PROTECTION!"
I FOUND MAX TO BE PATIENT AND RESPONSIVE TO OUR REQUESTS. IT TOOK A WHILE TO GET EVERYTHING IN ORDER SINCE WE LIVE OF-OF-STATE AND COULD NOT SIGN EVERYTHING IN LESS TIME. I WILL RECOMMEND MR. ALAVI TO MY CO-WORKERS WHEN THE SUBJECT OF LIVING TRUSTS COME UP.
MAX CAME TO MY WORK TO GIVE A PRESENTATION ON HIS SERVICES. HE WAS VERY PROFESSIONAL AND TOOK AS LONG AS WE NEEDED TO ANSWER ANY QUESTIONS WE HAD ABOUT HIS SERVICES. HE PUT THINGS IN A VERY EASY TO UNDERSTAND LANGUAGE AND MADE SURE HE DID NOT TALK ABOVE HIS AUDIENCE. I HIRED MR. ALAVI TO EXECUTE A LIVING TRUST FOR MY WIFE AND I. THROUGHOUT THE ENTIRE PROCESS HE WAS VERY PATIENT AND MADE SURE WE UNDERSTOOD EVERYTHING WE WERE INCORPORATING INTO THE TRUST. DEALING WITH MAX WAS A BREEZE AND I WOULD RECOMMEND HIM TO ALL MY FRIENDS AND COWORKERS.
Estate Planning Tips & Articles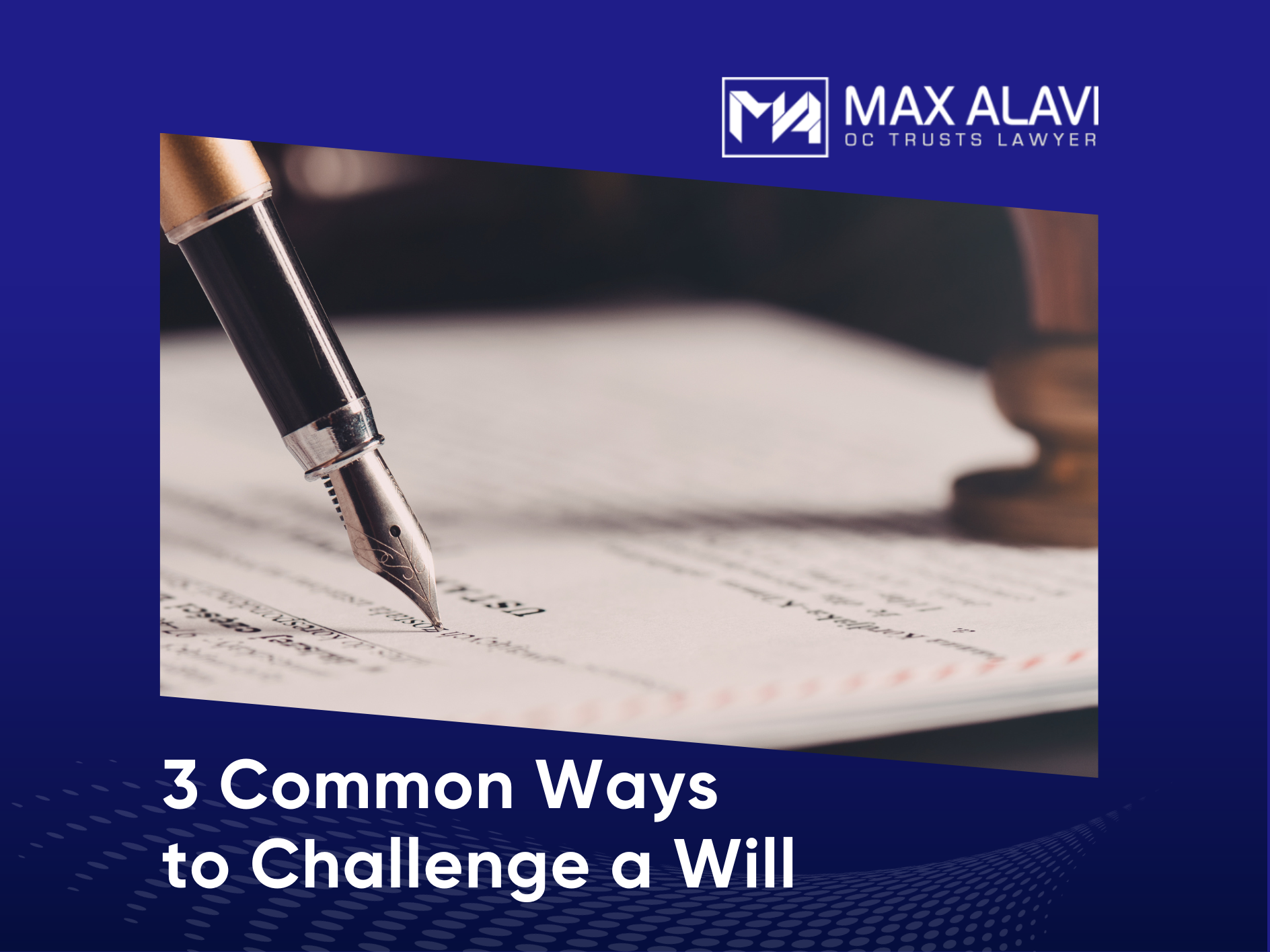 California law requires the decedent to sign the will.
There are any number of reasons why a living trust can be challenged in court, including: If you have questions about navigating one of these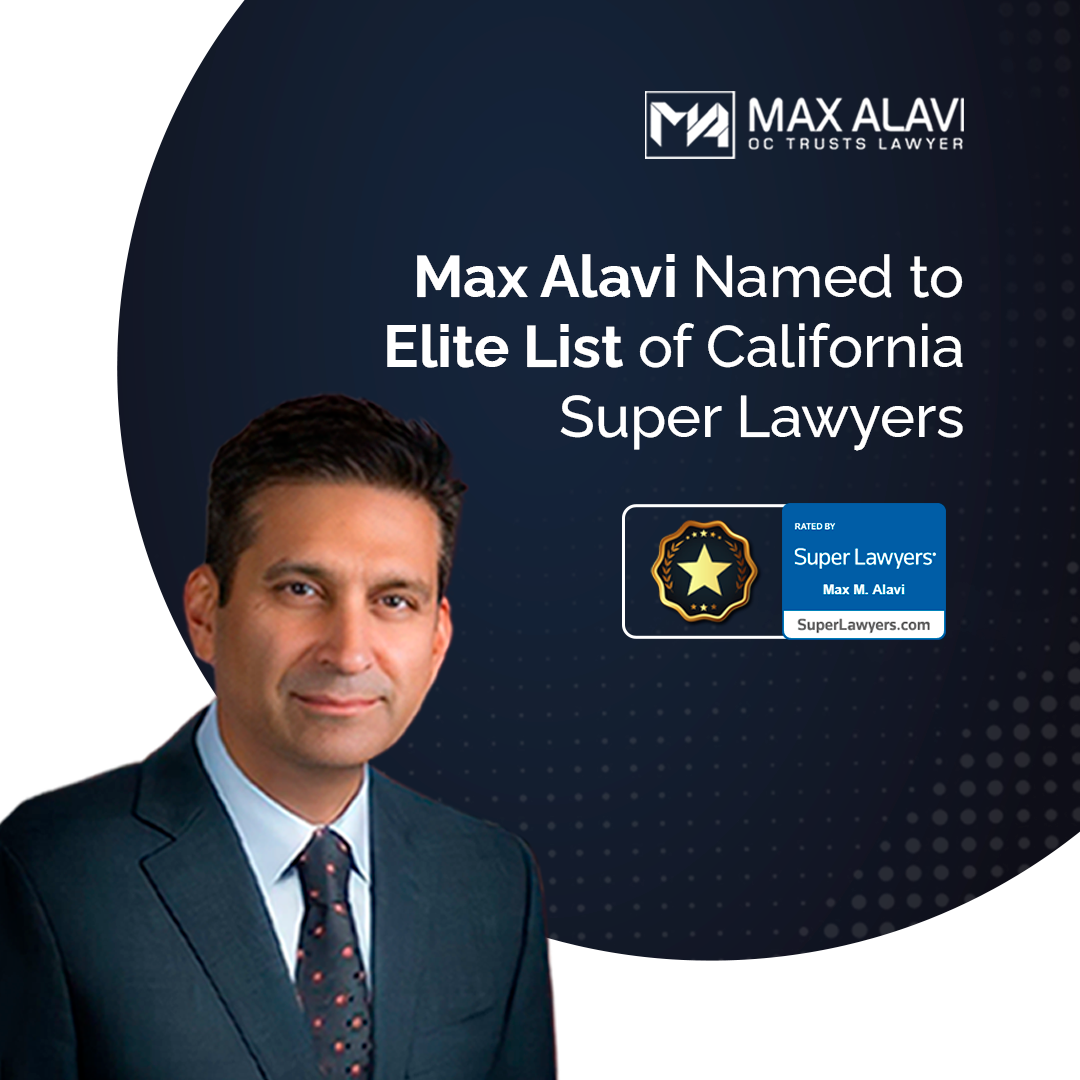 Now, his high level of achievement has been honored by California Super Lawyers, where Alavi is now listed among the state's legal elite.
Estate Planning & Probate Offices Near You
in Orange County & Long Beach Near
$
2424 SE Bristol St., Ste 300
Newport Beach, CA 92660
Phone:
949.706.1919
$
206 W. 4th St., 3rd Floor
Santa Ana, CA 92701
Phone:
949.706.1919
$
23046 Avenida de la Carlota., Ste. 600
Laguna Hills, CA 92653
Phone:
949.706.1919
$
3711 Long Beach Blvd., Ste. 810
Long Beach, CA 92653
Phone:
562.473.4415